Welcome to your People and Culture Hub
Resources and toolkits to support you on your culture change journey
This section of the People and Culture website includes an overview of some of the models and frameworks contained within David Liddle's book Transformational Culture and those which underpin the modern people and culture function.
At TCM, we are constantly innovating and developing new models and approaches to help organizations to integrate fair, just, inclusive, sustainable and high performance cultures.
If you would like to find out more about David's work, or you would like to speak with him, please click here
The People & Culture Model™ by David Liddle
David Liddle developed the People and Culture Model™ to support the ongoing process of HR transformation. The model comprises four interconnected pillars which are used by P&C leaders and their teams to define their purpose and objectives. The model underpins a purpose-driven, values-based, and people-centred workplace. Thus, it enable colleagues to thrive, teams to perform and organizations to flourish. By applying the People and Culture Model™,  people and culture's impact will be measured in terms of enhanced social value, stakeholder value and shareholder value. This makes the P&C function one of the most strategically important functions in the modern workplace.
People
The people and culture function co-creates a person-centred workplace where values and purpose align with the needs of the business and the aspirations of the workforce.
Culture
The people and culture function co-creates a workplace culture which is fair, just, inclusive, sustainable and high performing - a transformational culture.
Strategy
The people and culture function uses data and evidence to co-create a strategic narrative which enables individual, collective and organisational brilliance.
Justice
The people and culture function rejects broken retributive justice models. In its place, it embraces a modern form of transformative justice which is robust, restorative, human and humane.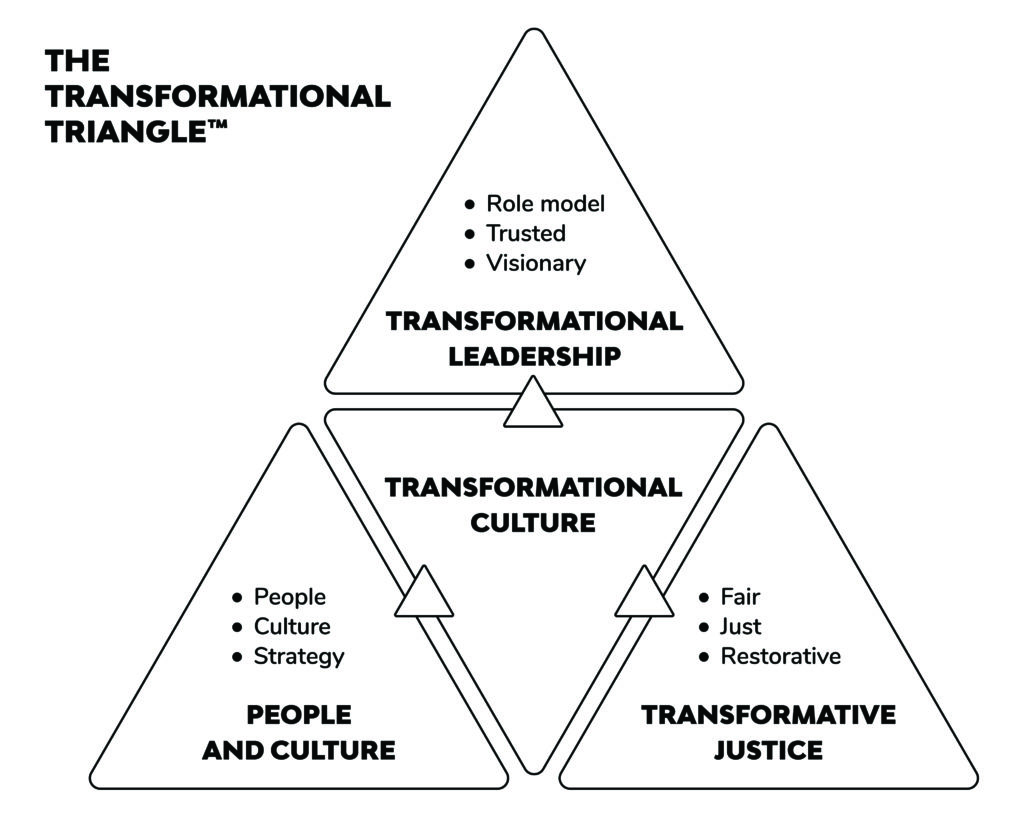 The Transformational Triangle™
The Transformational Triangle™ contains three elements of 1) Transformational Leadership, 2) People and Culture and 3) Transformative Justice combining to create a Transformational Culture. Each corner of the transformational triangle is vital to creating a fair, just, inclusive, sustainable and high-performing culture – a transformational culture – which sits at the centre of the Transformational Triangle.
We propose, supported by numerous case studies and evidence, that organizations should embrace a person-centred and values-based system of justice if they are to succeed. This new and exciting model of justice is a combination of procedural justice (due process) and restorative justice (RJ).
We call this Transformative Justice. 
The Employee Experience (EX) Equation™

How the EX Equation Works
We are not advocating an algorithm to replace good judgement and human wisdom. However, the EX equation can act as a useful tool to evaluate the multivariate data that is available to us and to use the data to map and analyse the current state of our employee experience in our organizations. By applying the EX equation in localities (departments, divisions, or sub-brands), it also enables organizations to identify patterns and trends and to allocate the necessary resources to support local initiatives to enhance EX. It also allows those areas of our businesses that are delivering strong EX, to act as beacons and champions which can inspire improvements in other areas of the organization.
Wellbeing, engagement and inclusion.
At the top of the equation sits WEI, the numerator. This reflects the organizations combined strategic and operational efforts to create and sustain an inclusive, engaged and psychologically safe workplace. A workplace where employees are given a voice, they are valued, their issues are resolved constructively, they are treated fairly, and they feel included in making decisions which will impact them.
Policies, processes, and procedures.
These three Ps sit as the denominator in the employee experience equation. The combined efforts for delivering wellbeing, engagement and inclusion at work are divided by the impact of the organizations Policies, Processes, and Procedures. When the organization's policies, processes and procedures are aligned to the purpose and the values of the organization and where the policies are concerned about protecting relationships, engendering resolution, restoration and learning, promoting dialogue and driving collaboration – the less of a negative impact they have on the overall EX equation. Conversely, where the organizations policies, processes, and procedures are about risk mitigation, where they draw on the principles of retributive justice, where they are reductive, where they are destructive, where they are divisive, and where they pit people against each other – the more of a negative impact on the overall EX equation they will have.
Happy, Healthy, Harmonious and High Performing.
These 4 H's relate directly to the climate in our teams and the felt experience of team members. They also relate to the way that our jobs are designed. When our job design reflects our organization's purpose and the values, it deepens our connection to our organization, to our colleagues and to our leaders. It acts as a catalyst for unlocking our inner brilliance and it empowers us to deliver the best possible customer experience. When our jobs are designed in this way, it has a net positive impact on the overall employee experience. The opposite being true – confusing, out of date or inaccurate job design damages overall EX. The climate of our teams is directly influenced by the behaviour of our managers and leaders i.e. their Actions, Interactions and Reactions (AIR). Therefore, in the EX equation, the impact of the 4 H's is significantly increased when our managers and leaders align purpose with values and behaviour. The greater emphasis that our leaders and managers place on creating a happy working environment, the greater the impact on the overall EX equation.
Employee Experience (EX).
When WEI is divided by the 3Ps and the aggregate is multiplied by the 4Hs, this gives the overall employee experience (EX).
The FAIR Model™
The FAIR Model™ is one of the first proprietary models that we created at The TCM Group. The FAIR Model™ is applied across our entire suite of activities: from mediation and coaching services to complex team facilitation and leadership development programmes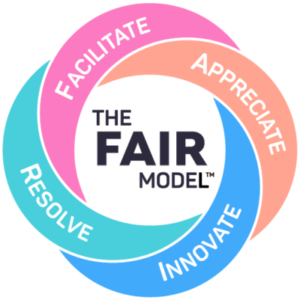 Facilitate.
To make a problem simpler to resolve. We facilitate conflict resolution, we facilitate learning and we facilitate cultural change by creating the conditions for people to engage in adult to adult, compassionate and robust dialogue. Those conditions are psychologically safe, mutually respectful, open, honest and empowering.
Appreciate.
We help people and organizations to build bridges of empathy, understanding and insight. We apply Appreciative Inquiry in all of our work which means that we focus on the positives and we reframe challenges from threats to opportunities. We find that this approach engenders a high growth and future focused mindset for the leaders, managers and employees with whom we work.
Innovate.
The power of the FAIR Model™ is that it enables people to come together and to reflect on what has gone wrong, what has gone well and what needs to change in the future. It encourages deep thinking, reflection and it converts hindsight to insight which is the powerhouse of creativity, innovation and sustainable change.
Resolve
Sometimes, it's not enough to ponder a problem or reflect on an issue. The FAIR Model™ is solution focused which means that it helps colleagues, teams, departments and entire organizations to resolve issues and to build resilience and sustainability into those resolutions.
The Culture Flow System™ by David Liddle

The Culture Flow System™ expresses the relationship between corporate culture and local climates and subcultures. The term 'flow' is taken from positive psychology and the work of Martin Seligman and Mihaly Csikszentmihalyi. In a Transformational Culture it reflects the flow from a boardroom to the shop floor. Utilising the same principles of flow and happiness, it is about creating the necessary conditions for a just fair, inclusive, sustainable and high performance organisation. These attributes, as argued in Transformational Culture are the antecedents to a happy, healthy and harmonious workplace.
At TCM, we use the culture flow model to help organisations to map their culture and their climate. It's a powerful diagnostic system and is the basis for our cultural diagnostic – The 5D Review™ which TCM is deploying in a number of organizations. To schedule a call to discuss the Culture Flow System™ and TCM's 5D Review™, please complete the contact form below at the bottom of this page.
Are you as excited as we are about people and culture?
Please complete the form below and we will be in touch asap…