Insights and Support for People & Culture professionals
Keynotes, podcasts, workshops and more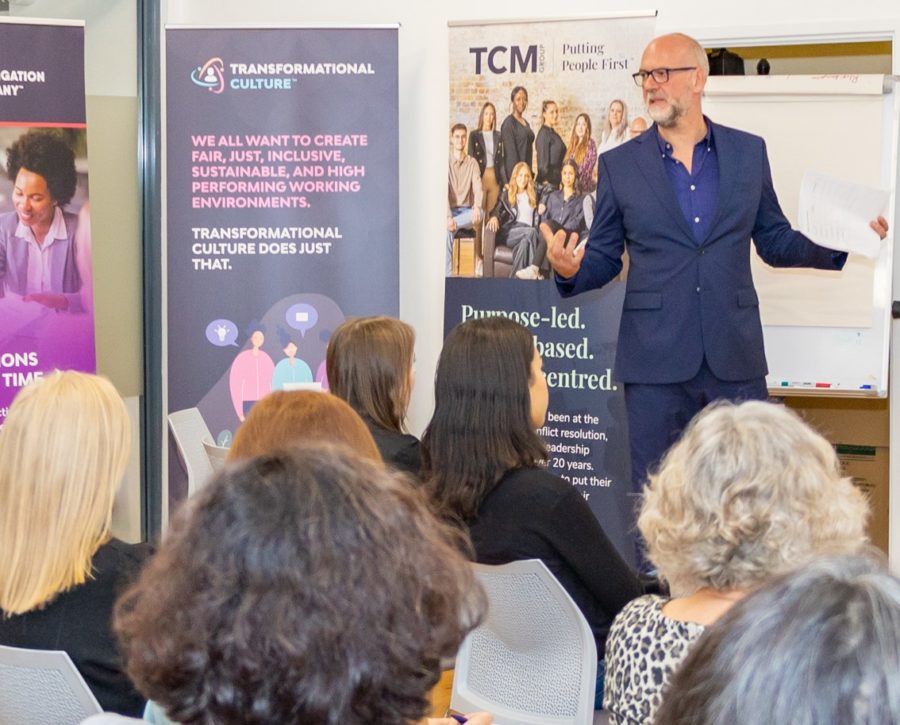 Keynotes
David Liddle is available to deliver a keynote presentation about his book Transformational Culture and his work in the area of people and culture at your conference or event. The presentation can be designed around your specific needs and objectives and David will ensure that his keynote presentation is informative, inspiring and enjoyable. To contact David, please use the button below.
David is a great speaker, an excellent professional and a really nice person! We worked together for the 25th HR Symposium organised by KPMG in Greece. His deep knowledge on HR issues contributed greatly at the conference content!
People and culture workshops
The team of people and culture experts at TCM are available to design and deliver workshops for your organisation, trade body, professional association or institute.
Our workshops are high impact, practical and fun. In each workshop, we examine the role of the emerging people and culture function, the Transformational Culture Model™, the 8 enablers of a transformational culture. the development of the transformational culture hub, the 7Cs of a transformational culture, the emergence of transformative justice, transformational leadership, and emerging opportunities for the people and culture function. Workshops are either half a day, 1 day or 2 days. Please use the button below to book a workshop.
Podcasts
Podcasts are a fantastic way to explore the underpinning theories of a transformational culture and the benefits of making the shift to a people and culture function. If you would like David Liddle, or one of the TCM team to join you for a podcast, we would be delighted to do so.
We are also keen to hear from like minded people who would be willing to join us for a podcast. These are recorded in partnership between The TCM Group and People and Culture Association.
To enquire about David or one of the TCM team joining one of your podcasts or you are interested in joining us for a podcast, please use the button below.
Recent podcasts and workshops have covered a wide array of topics:
David spoke at our annual Health and Wellbeing at Work event in 2023 covering 'How a Transformational Culture Can Deliver a Happier, Healthier and More Harmonious Workplace'. His session was extremely well received by delegates with multiple requests to have him return as a speaker at a future event. Professionally David is very easy to work with and would highly recommend him as a speaker.
Are your looking for an energetic and inspiring keynote speaker, workshop presenter or podcast guest?
Please complete this short form and we'll be in touch asap…